Revolving Display Boards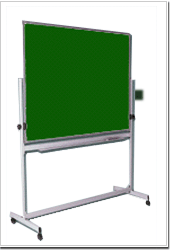 Our customers can profit a selective scope of Revolving Boards that can hold the twofold sided sheets. These stands are made with unrivaled quality crude material, which guarantees their solidness. Our scope of stands accompanies locking framework to alter the Revolving Display Boards in one position.
Gives two surfaces to compose. Simple to proceed onward wheels & Versatile.
Features
Smoother writing
Crystal clear
Scratch resistant
Improved Erasability
Better colour contrast
Enhanced visibility